Hi everyone, just a little post to enjoy with you all about interior design in this fantastic game.
Feel free to comment to suggest your solutions to decoring and styling our places :).
This is my penthouse.
I can't see the image i upload while post this topic, so i will comment space in general:
The house present a very generous kitchen with all convenience with a very cozy living, privacy space for relax (the other spaces is designed for many people/guest, so this is more to enjoy your privacy). The tones are warm and elegant.
The master bedroom is spacious and cozy, we can see a walk-in closet, private "bathroom" (lol) behind the king size bed, divided by two elegant divider with privacy glass, a small office corner with a gaming pc and, on the right, divvided by a low shelf, two designer armchair to enjoy the view before bedtime :).
Next, we see a small fitness/hobby room, with all available fitness device and a fantastic gaming simulation device. This is the only room designed with vivid color to enjoy your gym sessions.
The dining corner is the first ambient of the big open space. We can see a presidential table, so much elegant, with big fridge for wines & champagne with a small after-dinner corner to relax.
Another after-dinner / chill zone is the one next to the dining corner. We can see a bar zone filled with all convenience, a sofa, a dj device and a nice view. Very calming and relaxing.
The last place of the open space is a living room/cinema/guest-chill-space. We see a large sofa with chaise long, plants to make the ambient natural and relaxing, with a big screen made by 12 lcd screens.
The outer space, "terrazza", is a nice place to stay in warm and sunny days (will be so nice if in the future we could see a view on the city, like we had in Habbo decades ago (i cant find a better example lmao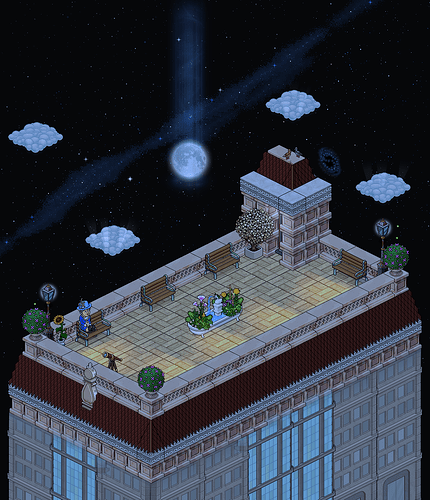 )).
The keywords are:
Cozy, Relaxing, Luminous, Luxury, Elegant, Warm.
This is a "Beta", a first attempt to make blueprints. I hope you'all can suggest with your creations and solutions to make better and finish this project and make it available on blueprints workshop.


(sorry for my english lol)